If you're 47 years old, drive a Mercedes or a Corvette, operate your own business, have a net worth greater than $1 million, and enjoy power boats, then it's not a bad bet that you also own a Trojan International series boat, probably a 10 Meter. That's the profile of the typical Trojan owner these days, according to a marketing survey just completed by the company. Any boat builder or automobile manufacturer or pasta machine maker, for that matter would love to have customer demographics like that. And Trojan can thank its 33-foot International 10 Meter model for attracting such an upscale group.
It seems like only yesterday that Trojan surprised the American power boat industry with its avant-garde 10 Meter. But the boat is now in its seventh year and Trojan has sold nearly 600 of them. The 10 Meter was a gutsy move for a staid builder like Trojan. For some 35 years, the folks at Trojan's plant in Lancaster, PA had been quietly turning out nice, conservative family cruisers. "Boats built to a price," is how several marine surveyors described older Trojans to me. The early Trojans were of course constructed of wood. When the company switched to fiberglass in the late 1960s, the status of Trojan boats moved upward a notch. But despite the change of materials, the designs remained much the same, hardly distinguishable from Chris-Crafts, Owens or boats from a dozen other American builders.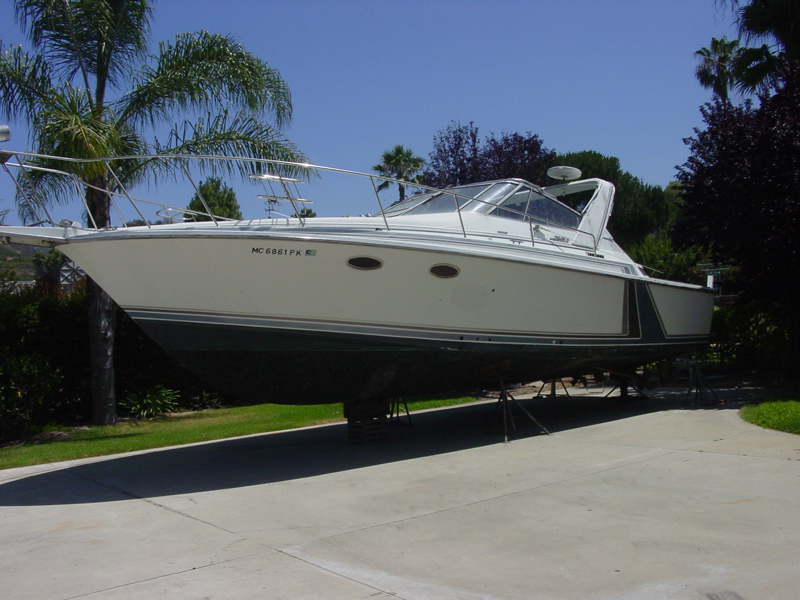 Then around 1980, Trojan president Don Seith took a flier. Armed with the progressive ideas of naval architect Harry Schoell, he convinced Trojan's parent company, Whittaker Corporation, that Trojan should build a trend setting, new kind of cruiser. Inspired by the ultra costly, ultra chic boats from Italian builder Riva, Schoell developed his own rendition of Riva's "Med-style" boat. The 10 Meter's lines, inside and out, are excitingly different from most cruisers, as different as a Chevrolet Corvette from a Ford Country Squire. With its long, sleek, downward sloping foredeck, the boat resembles some wild beast ready to pounce on its prey.
Below deck, the 10 Meter is filled with modernistic curved bulkheads that not only make the interior seem more like the cabin of a Lear Jet than a yacht, but are also very space efficient. "The boat's visual appeal initially catches the interest of buyers," says George Rinderspacher of Pacific West Yachts in Newport Beach. "However, it's the boat's performance that finally grabs them." George ought to know; he sold 24 new Trojans in 1986. Indeed the 10 Meter's success is based on more than sexy styling. Harry Schoell came up with an innovative hull to go with the 10 Meter's innovative lines topside. The hull, called the "DeltaConic" design by Trojan, has unusual 18-inch wide, horizontal chines that run from bow to stern on either side. In between the chines is a more usual modified V-hull, one that's quite deep at the bow but flattens out toward the stern. What makes the 10 Meter truly different from other boats is its almost uncanny stability. The 10 Meter's wide beam combined with the wide chines quickly stills any rolling motion. I've never been aboard a similar sized boat that felt as stable at dockside as this Trojan.
Under way, the chines make the boats feel - to use an old car salesman's clich - "like it corners on rails". Mind you, steering response isn't especially quick. But the boat's attitude is solid and secure as those chines lock in for the turn. The 10 Meter's standard twin 350 Crusader engines use a combined total of 18 gallons of gasoline per hour at a cruise speed of 28 to 30 miles per hour, according to George Rinderspacher. An AquaSonic muffler system that vents exhaust out the sides of the hull beneath the waterline is integrated into the hull during its layup. The system makes the 10 Meter an unusually quiet power boat whether idling in the slip or running full bore.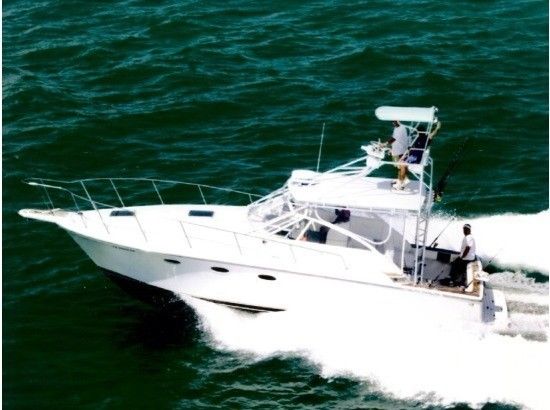 The 10 Meter's hull is solid fiberglass, but the decks and cabin side are cored with end grain balsa. My marine surveyor/advisors all commented that Trojan's gelcoat work on the 10 Meter appeared to be of high quality. Trojan also uses some innovative construction methods on the boat. For instance, the company vacuum bonds certain parts of the boat together. Liners are literally sucked against the hull by a vacuum pump until a resin and glass paste hardens. The technique gives a very uniform tight fit.
The 10 Meter comes in three versions. The Express, which made its debut at the Miami Boat Show in February 1981, came first. Like all the versions of the 10 Meter, the Express has a forward stateroom down below as well as a large galley, a dinette and a head. The helm and cockpit on the Express are essentially a single area, providing a huge arena for playing, partying or sun worshipping. And that's exactly how most owners use their 10 Meters, according to the company's survey. The slightly more conventional-looking Sedan has a streamlined flying bridge, a saloon with a convertible sofa, and a severely abbreviated cockpit. A good configuration for cooler climes, the Sedan was introduced in early 1982. The Mid-Cabin went into production in 1985. The exterior profile of this version is virtually identical to the Express. But the Mid-Cabin has a small sleeping area for two (with sitting headroom only) tucked under the helm.
Last year Trojan introduced a stretched version of the 10 Meter, called the 10.8 Meter (35 feet). It's a 10 Meter Sedan with an extended cockpit and is aimed at the sportfishermen. There have been no major changes in the basic 10 Meter design since its introduction in 1981. However, in one fell swoop in 1983, Trojan made some 200 detail changes. These included such things as upgraded interior fabrics, new instrumentation for the helm, and heavier stainless steel port lights. At the same time, Trojan abandoned what surely must have been one of the all-time worst gimmicks aboard a small yacht: electrically operated doors to the forward stateroom and head compartment. They were indeed attention getters at boat shows, but a marine environment is not exactly ideal for electric motors.
Don Seith's gamble has obviously paid off handsomely for Trojan. The company still builds conventional cruisers (the "Classic" series), but their percentage of total sales has dwindled to 20 percent. Meanwhile, Harry Schoell's 10 Meter has spawned a whole series of International boats, ranging from the 8.6 Meter (29 feet) to the 13 Meter (43 feet). Moreover, other American power boat manufacturers have fallen all over themselves to come up with Med-style boats of their own. To be sure, a Trojan International 10 meter is not for everyone. But then neither is a Corvette.