Trojan Boat -- Owner Pictures
Do you have a photo of your classic or restored Trojan?
Would you like to share your experiences with other Trojan owners?
Please use our Information Form to post information about your Trojan.
Follow the directions on the Info Form to submit pictures.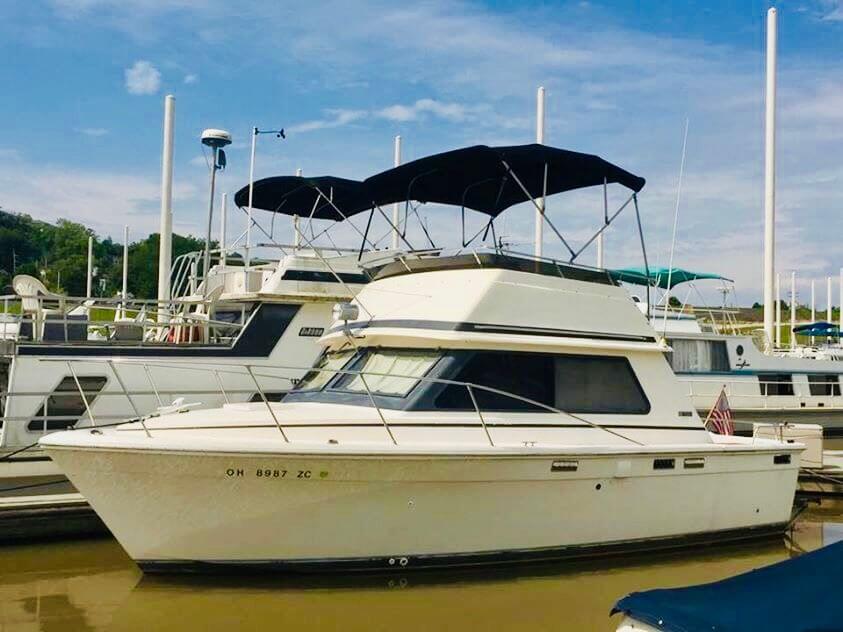 Name:
Krakens Kiss
Email:
zembrodt11@gmail com
Location:
Cincinnati, OH
Details:
1977 F28 Sport Sedan -- Original Twin Chrysler 318's -- We bought the boat late summer of 2018. We are only the 3rd owners of the boat. She is our first boat and we love putting time into her and taking her out when we can and spending nights on her. Dual helm controls, one in the cabin and one on the fly-bridge..
More photos:
1
2
3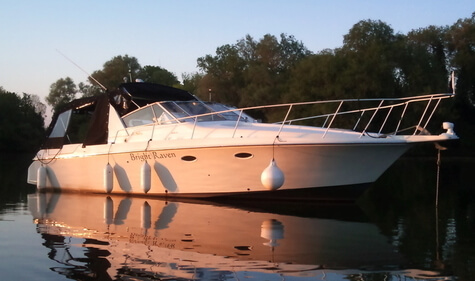 Name:
Bright Raven
Email:
colin.g.pratt@gmail com
Location:
Isle of Wight, UK
Details:
Purchased in 2009, abused and ready for boat heaven, didn't even have a name so we called her 'Bright Raven'. We fell in love with the shape so purchased and restored. Still has 454's so taking her out is costly and can't happen too often, but we are very proud to be her owners.
More photos:
1
Name: Hope She Floats II
Email: tom@hollywood-sounds com
Location: Minnetonka, MN
Details: Fully restored 1980 F32. Twin Chrysler 235, Onan genset, new interior - removed the wall between the cabin and v-berth, all electronics updated as well as 2 stereos and flat panel TV's, set up for off shore fishing with a fighting chair, outriggers, rocket launchers, live-well, ice and water maker. A new water system including all new filters, piping and faucets and shower and pumps. Motors run like a fine swiss watch.

Name:
MISS MAX II
Email:
Tomw07726@aol com
Location:
New Jersey, Sandy Hook
Details:
1987 F-36 -- Sat on hard for 4 years. Getting her ready for 2018 season. Twin 454's // 330's were rebuilt from bottom up and now in the 400+ hp. Also re-torqued for mid range cruising rpm's. Hoping for 19 knts at 2900-3000. Velvet drives also done.
More photos:
1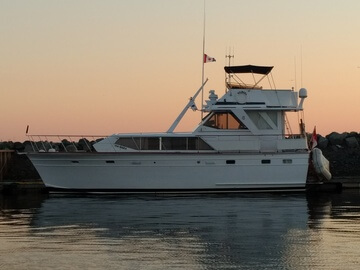 Name:
VIA-MARA
Email:
mariners_@rogers com
Location:
New Brunswick Canada
Details:
1967 Trojan 42' Sea Voyager. Customized and now has a "sedan" wheelhouse. Re-powered with Mercruiser 340 MIE's 1989. Cruised extensively, have owned since 1981. Surveys clean, considered in excellent condition.
More photos:
1
2
3
4
5
6
7
Name:
Wiskey Girl
Email:
jjblack1036@aol com
Location:
Brandenburg, KY
Details:
1965 Trojan Sea Breeze -- 31'. For a `65, she's in pretty good shape. The hull is solid and the stringers do no show any signs of rot. This was my Grandfathers boat; he owned it for 38 years and used it on the Ohio River. It's been in my Boat Barn for the last 7 years. At present, she's all cleaned up (with some upgrades) and floating on the Rough River where we keep her in the slip.
More photos:
1
2
3
4
Name: Bear Necessities
Email: john@upnorthproperty com
Location: Saxon Harbor, WI
Details: I am the 3rd owner of this 1975 F32 Sedan FB. Thoroughly reconditioned and careful to use only Trojan Boat parts. New rear fantail floor/deck. She was purchased in Milwaukee and transported to Ironwood, MI where her restoration took place. Updated electronics to include an Atlantic Tower Radar Arch and Radar. A fitting Craft for Lake Superior.
Name: Escapade III
Email: DiLuna@aol com
Location: Clinton, CT
Details: This was the first one made and was featured at the 1983 NY Boat Show. We bought her in 2005 and I've been bringing her back to her original glory. She sat on the hard for many years and nobody seemed interested until we put a down payment on her. She was sold originally to Petzold marine for a little under 100K. I understand Trojan only built 12 of these and I intend to keep her running as long as I am physically able.

Name: No Problem
Email: matt_s_c@hotmail com
Location: Shelton, CT -- Housatonic River
Details: Owned of this vessel since May of 1994 (4 previous owners). She was re-powered in 2002 with a 330 HP, 5.7 MPI Crusader and swings a 14" x 10 Nibral Propeller with a full cup. The original deck was replaced with fiberglass and re-painted with Awlgrip. She has a new interior, gauges, swim platform, radar arch and skiff poles. She also has a Lowrance LCX-19C color sounder/chart plotter and a 4kw JRC Radar unit.

Name: Cruise Control
Email: pauld@kewassemblies com
Location: Lake Erie, Lake St. Claire and Detroit River
Details: Cruise Control is a 1978 F-26 with a single 300-HP / 350 cid MerCruiser. It underwent a full stringers up restoration in 2001-2002 and has had an additional upgrade every year since. Its equipped with a Kohler generator, CruisAir air conditioning / heat, windlass, vertical lift davits, etc.

Name:
Rainbow Chaser
Email:
captsabbath@gmail com
Location:
Lake Michigan
Details:
1971 36' Sea Voyager in great condition. 270hp MerCruisers with electronic ignition, 6.5K Onan generator and a 16k BTU marine air (All factory). We've enjoyed this boat for 28 years and have cruised all over Lake Michigan. She's never let us down and was always comfortable to be aboard....
More photos:
1
2
3