I first boarded Trojans 440 Express at the Miami Boat Show. What I immediately liked about this Italian-designed, American-built, two-stateroom-two-head Euro-cruiser was the profusion of little details that make it decidedly upscale as well as ultra-livable.
Like the salon hatch abaft the windshield - for wafty, refreshing airflow underway vs. hurricane-strength blasts from open hatches further forward. Or the bigger-than-anybody-else's six-piece Besonzoni windshield that's as stylish and practically protective as it is easy to see through. Or the Taylor tempered-glass companionway hatch that both brightens the salon and ensures privacy with one-way visibility.
By the time I got off the 440, I was very impressed, but boat-show walk-throughs seldom guarantee a thorough understanding. During a subsequent test at Fred Chall's Marine in Copiague, Long Island, I formed a clearer impression of the boat, based more on the essentials of construction than anything else. The real beauty here is far more than gimmick-deep- it' s as solid and basic as stringers and bulkheads.
Wood-less Wonder
The 440's base price is $304,995 ($504,003 in 2019 dollars), with twin 380-hp gasoline Crusader 502 XLIs. An upgrade to test-boat diesels, 407-hp Caterpillar 3126s, boosts the bottom line to $369,995 ($611,416 in 2019 dollars). Either of these figures is competitive.
A Tiara Yachts 4000 Mid-Cabin, for example, retails for $386,000 with twin 407-hp Cummins diesels. A Sea Ray 450 Sundancer, with comparable power, costs $398,390 ($658,338 in 2019 dollars).
Both the Tiara and the Sea Ray rely heavily on wood for structural strength, a tried-and-true method but one that hardly tests the frontiers of boat-building. Bulkheads are of marine ply and stringers are of glass-encapsulated ply, albeit sophisticated, uni-directional-grained stuff in the Tiara's case.
Trojan, on the other hand, goes the all-fiberglass route with the 440, partly because it's rot-proof, partly because the builder believes all-glass liner-built construction makes for stronger boats and partly because the 440's put together at sister company Hatteras's High Point plant. Hatteras has been building all-fiberglass boats since the early '60s and provides many techniques that are proven as well as cost-effective.
In my opinion, the way the 440's built is the way most fiberglass boats will be built in the future: Stringers and floors are solid, hat-section- shaped fiberglass. No coring material is used, even in way of the engines, which are supported on heavy, through-bolted shelf-type, welded-aluminum bearers.
A complex, one-piece liner fills much of the hull, from ER bulkhead to collision bulkhead. Bonded to both stringer tops and Divinycell-cored hullsides, and made more rigid by a pedestal-berth and other molded-in structure, it brings a lot of strength to the boat, especially at the bow. Bulkheads are glass-encapsulated vacuum-bagged foam-stronger than plywood.
Hull-to-deck joint? It's bonded with Sikaflex 240-a material that's much like 3M's 5200. Then come stainless steel bolts and screws, turned into ½" plywood backing strips. Finally, there's some fiberglass bonding. The joint's pretty standard overall. On the 450 SunDancer, Sea Ray takes a similar approach, using sealant strips and sealant along with alternating screws and bolts. Tiara employs 3M 5200 and screws on its 4000 Mid-Cabin. Neither Sea Ray nor Tiara reports any glass bonding, however.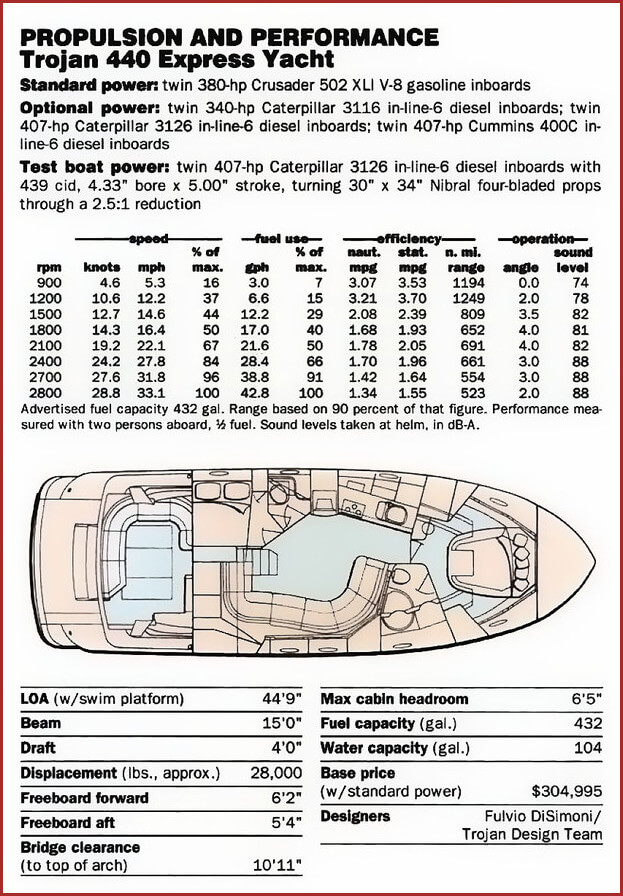 What's the Diff???
I tested the 440 on a slick-calm sea (top speed: 33.1 mph), where it jumped wakes with the solidity of an M-60 tank. There were no handling peculiarities due to the unusual prop/rudder placement.
After the test, I returned to my office at BOATING, put my deck shoes up on my desk and began studying standard equipment lists. I gingerly rubbed my head, having rammed it into one of the wings on the radar arch while going forward during the test- the price of Italian styling.
The 440 is a turn-key boat, with only a few major options, including Marine Air AC ($8,750), leather sofa ($5,495), Kariba washer/dryer ($2,175) and a Bose stereo upgrade ($1,850) with an extra sub-woofer and blow-your-hair-off Acousti-Mass AM-5 speakers in the salon.
The Tiara has a few more standard items, like a Bose system of its own, a built-in AC system and a second TV. The Sea Ray has fewer standards or, in some cases, less pricey ones, like a slightly smaller genset (8kw vs. 9kw) and fiberglass countertops instead of Fountainhead.
The 440's fit and finish? It's not as creamy and gorgeous as the Tiara's and not as precise as the Sea Ray's. On our test boat, most of the obvious joinery below decks was maple. Nice, but it could have been smoother.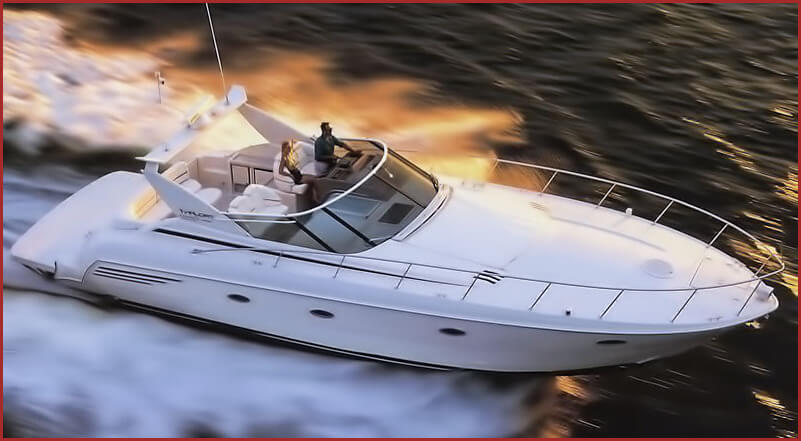 Certainly the mechanical side of the 440 deserves praise the engine room's neat, diamond-plate- decked and roomy enough to get at both engines, from both sides. However, the 440's standard genset is salted away in a small compartment of its own, abaft the engine room, to starboard. The upside-noise reduction. The downside - complicated maintenance access and the potential for corrosion.
Also, I'm not a big fan of the all-but-invisible and therefore fashionable anchor locker/windlass setup. Why hide a much-used piece of equipment, whether it's a windlass or a toilet seat? Sure, it's so Euro, but hiding stuff makes it harder to use.
The standard windlass on the 440 is located under a set of hatches at the bow, on a sort of shelf, above the rode area. The anchor also is partly concealed- there's a stainless-steel-armored hole in the stem of the boat that accepts the anchor shank, concealing all but crown and flukes.
The problem is that water's free to enter the hole. Let's say the bow squashes into a wave, a not-unusual occurrence when running with big following seas. This wouldn't be dangerous since the collision bulkhead separating locker from salon is watertight. But windlass electrics could get doused.
My overall opinion of the Trojan 440 Express? The fundamentals are superior.
You'd be hard-pressed to find a better-built boat.
Moreover, Fulvio DiSimoni's styling is distinctive, handling's fine and, hey, the price is right.